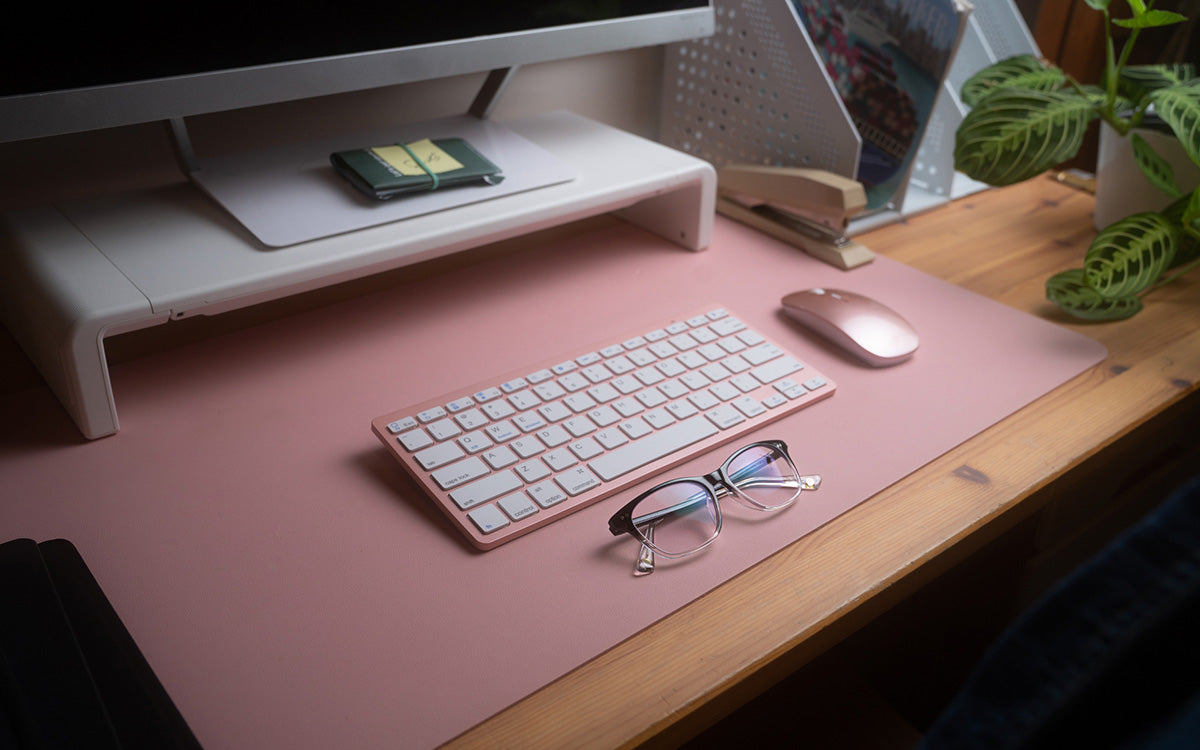 Computer Glasses: See Your Workspace Clearly with L&F Extended Vision™ Reading Glasses
If you spend all day working on your computer you are spending hours relying solely on your "middle-distance" and "near-vision" focal zones.

If you wear Rx Progressive lenses, then you know that most progressive lenses are produced with a very small "sweet spot" intended to focus your mid-range middle-distance vision, which is why your neck, shoulders, and back tends to hurt after struggling to lift your chin or lean in toward your screen to see your computer clearly.

Reading glasses can help to see your phone clearly. But then your computer screen gets blurry and you can't see the person approaching your desk unless you take them off - or worse - slide them down your nose so you can peer over the top of the frames.

See Well. Read Well.
Lens & Frame Co. has developed a specialty multi-focal lens that allows you to see clearly and comfortably while you're working. Our unique Extended Vision™ reading glasses are custom-made just for you and are optimized for your middle-distance and near-vision zones - producing a seamless, clear view of everything within 6 feet.

That means whatever your eyes are looking at around your workspace will be in sharp focus: your phone (up close) to your computer screen (2-3 feet away) and everything on your desk (about 6 feet away).
Not Your Grandma's Reading Glasses.
Definitely not.These are extended vision reading glasses that are customized specifically for you.As the name suggests, we like to think of these specialty lenses as customized reading glasses with "extended vision". In other words, these custom-made reading glasses will produce a crystal clear view up close (texting on your phone) -- but they will also extend your vision to help you to see clearly everything that's on your desk, your computer screen, and even be able to look up and see who's walking toward you without having to peer over the top of your frames.

You can purchase a pair of Extended Vision™ reading glasses without an Rx script, as you would purchase any pair of reading glasses over the counter. All you need to do is select the magnification power that you would normally use for your reading glasses. L&F's specialty lens design will optimize your lenses for the most comfortable view for you to read your phone, see your computer screen, and extend your vision throughout your workspace.
Available with Custom Rx
Our Extended Vision™ lenses are may be personalized for anyone who currently wears prescription multi-focal lenses such as Rx Progressive lenses.

Curious if that's you: just look at your Rx script and see if there are any numbers under the header title "ADD" or "ADD POWER" which refers to your near vision magnification. Or feel free to send us an email or hop on a chat and ask us.
Add Extended Vision™ Reading Glasses to your eyewear quiver.
Glasses done right can change your world. Especially when you think about building an eyewear quiver with the right kind of specialty lenses to help you see your world more clearly and perform all of your tasks more comfortably. At L&F, we specialize in premium quality and personalized service.We recommend keeping a pair of Extended Vision™ reading glasses on your desk or in your laptop travel bag because once you experience the comfort and clarity of these unique lenses you won't want to work on your computer without them.
Ordering Extended Vision™ Reading Glasses online is easy.
Start by browsing our collection of Extended Vision™ reading glasses to find the look and fit that is right for you. If you don't have an Rx Script, just click the reading vision magnification power you need and follow the prompts to complete your order. A few of our best sellers are shown below:
Feel free to reach out and ask us about our specialty Extended Vision reading glasses - or any of our other premium prescription lens designs, lens treatments and materials - and see how glasses done right by Lens & Frame Co. can change your world.